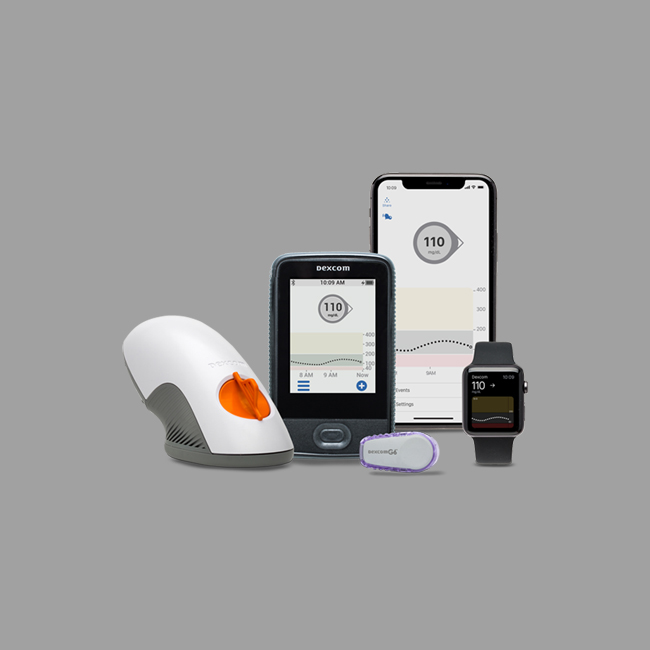 Purchasing:
To purchase, fill out a purchase order PDF and place an order with our staff. If you have any questions, feel free to call us at 1-877-865-0400.
Place an Order
Diabetic Pumps, Supplies, and CGM
Geo-Med is a one-stop shop for diabetic pumps, supplies, and continuous glucose monitoring. We have partnered with the leading manufacturers to make sourcing these critical products easy. We are a Service-Disable Veteran-Owned Small Business has become a one-stop shop for all diabetic technologies. We've partner with leading manufacturers in order to make available the most innovative solutions to the VA diabetic population and their families.
Dexcom:Dexcom, Inc. is the leader in transforming diabetes care and management by providing continuous glucose monitoring (CGM) technology to help patients and healthcare professionals better manage diabetes. Continuous Glucose Monitoring (CGM) System, G4/G5/G6 Sensors.
Senseonics: Eversense long term CGM system provides continuous blood glucose monitoring via an under-the-skin sensor, a removable and rechargeable smart transmitter, and a convenient app for real-time diabetes monitoring and management.
Tandem Diabetes Care: T:slim X2TM Insulin Pump and Infusion Sets. These products are used to manage the delivery of insulin under the skin of the patient. The device delivers insulin at set or variable rates and can digitally connect with other diabetes management devices for automatic communication and to receive drug dosing commands.
Lifescan: Meters and Test Strips including OneTouch® Test Strips. LifeScan, Inc. is a world leader in blood glucose monitoring OneTouch® brand products to help them manage their diabetes. The LifeScan portfolio includes personal blood glucose meters, testing strips, lancets, point of care testing systems and integrated digital solutions.
Abbott Diabetes Care: Through a steadfast commitment to research, technology and state-of-the-art manufacturing, Abbott has developed a diverse portfolio of breakthrough diabetes products designed to meet the needs of each unique patient. Their innovative product development program is responsible for several groundbreaking technologies such as, FreeStyle Libre Flash Glucose Monitoring System, Freestyle Libre, Librelink and other.
Medtronic: Medtronic Diabetes provides a variety of infusion sets to fit your needs. Used with your pump for Continuous Glucose Monitoring (CGM). A device that connects to a glucose sensor. Minimed Pump Systems, Guardian Link, Contour Next Link Meter, Infusion Sets are some of the technologies offered.
Our Vendors: